For a number of reasons I didn't chase flathead in the boat today. So, this afternoon we had another shot at the blackfish around the T-piece. It's great to be able to ride bikes to your fishing spot, catch a few fish and ride home. Yamba is at its brilliant winter's best this week, it was warm enough to swim today and we did, having a body surf at the main beach. The river is full of fish of different kinds around the walls and the dolphins are having a ball bailing them up against the various structures. This afternoon while we were catching blackfish, 2 dolphins were smashing into the school of fish that we were fishing to. In truth there could have been a school of mullet next to them, but I actually had my float hit by one of them!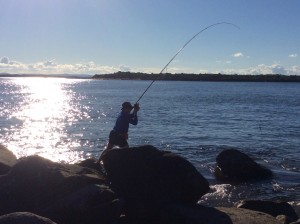 As I was fishing, a school of mullet swam past, for about half an hour! Unbelievable volume of fish. The blackfish were on a hot bite. A big school of them in one spot, and really provided you got the float in the right spot you would get a down. I landed around 8 and kept 4 and spent some time with my son Rory who eventually hooked and landed a nice fish before his father stuffed up the landing! Sorry mate.
The luderick fishing up here in July is simply outstanding. If you ever want to go somewhere to target these fish, Yamba in July is a great option, especially with the outstanding weather. The breakwall offers great fishing for people of all mobility and ages. Yamba also offers great boat fishing for blackfish. The middle wall and many of the training walls and even various deep banks all hold fish at this time of year. There are many easy to fish spots and plenty of room for all.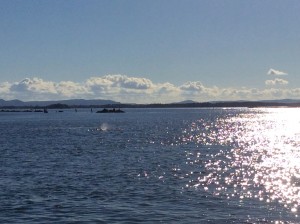 Hopefully we will get out after some flathead tomorrow. The winter flathead fishing can be really good here, with shallow water being a great option. Quite often you see the fish chasing fish on the shallow banks and you can cast to them and pick up fish. Sometimes trolling through the flats can indicate where the schools are and then you can cast soft plastics or small minnows like an sx-48. Anyway, tomorrow will be a boat day, looking forward to catching a few lure caught flatties.
Photos thanks to Rory McHugh
Tight lines
Matt