Bass Sydney Nepean bass catch 18/19th Feb 207
I love the bass catch. A great chance to fish and then talk rubbish about fishing over dinner. This year I was a bit strapped for time and not able to camp, so we decided to fish on Saturday afternoon and then go to the barbecue before the drive home. Daniel was with me, so we decided to fish from the tinny above Windsor.
It was forecast for severe storms, so the tinny seemed like a good option for the quick run back to the ramp. The thought of being out in the kayak in a lightning storm doesn't appeal. The weather from 11:30 was actually pretty good, except for a nasty little wind ripping right up the reach where we wanted to fish, making it pretty difficult to get into position.
I got the first couple of hookups and dropped both fish at the net while mucking around with the camera. Again we were fishing with cicadas. I had a soft shell and Daniel had a dreamfish cicada in green. I then hooked and landed a tiny 180mm specimen before turning around and fishing the opposite bank.
I scored the next fish, a chunky 327mm (the size is important as you will see). This one took the cicada on the retrieve as I pulled it past some rafted vegetation up against a tree on the run out tide. It really smashed the lure on the surface before burying me in the timber. I was lucky to get it out.
Daniel hooked and landed the next one, a ripper at 330mm and his best so far. Took it on the retrieve and buried him in the weeds before he managed to dig it out.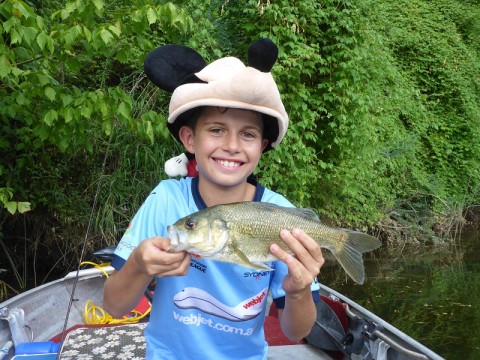 Again it was the lucky hat obviously that turned the day for him!
We left before the lightning hit and went up to Yellowmundee to the barbecue. It was a good night of fishy tales and then the raffle. With my winning tickets Daniel selected a scum frog and a Hanson CD! Thanks Dan, could be his last Bass Catch for that.
Tight Lines
Matt
Stay Informed
When you subscribe to the blog, we will send you an e-mail when there are new updates on the site so you wouldn't miss them.
Comments
No comments made yet. Be the first to submit a comment