Sydney Harbour Surface Fish 1st March 2015
With my attention focused on Bass fishing over the last two summers, I have had limited trips out in the tinny chasing pelagic species. This type of fishing can be outstanding in February and March and I've missed the excitement and the delicious sashimi.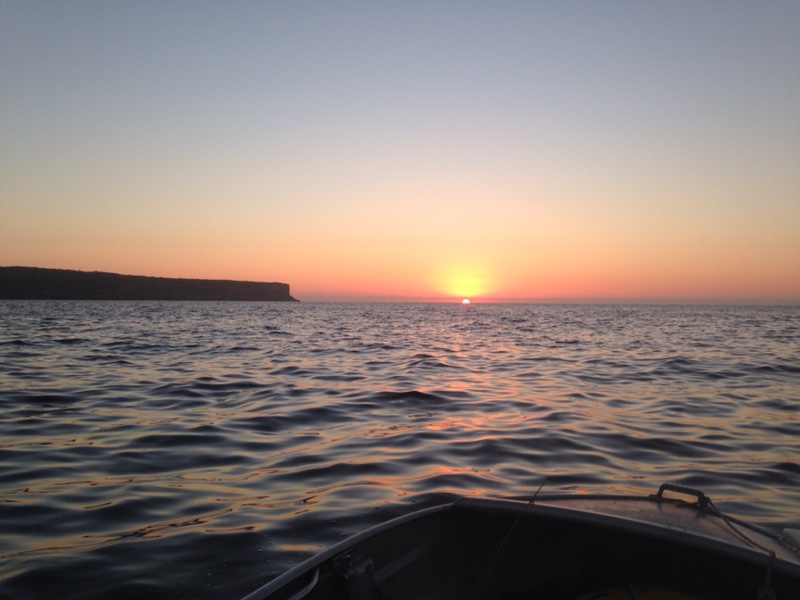 I prepared the gear on Saturday night and readied the boat. Gear for Sydney pelagics is wonderfully simple. I tend to use the same gear as I do for flathead, 7 foot spin gear with 2500 sized reels, light braid and 5kg leaders. The lures are simple and cheap. I stick to trollcraft red/white minnows for trolling and small slugs for casting. Usually I try to imitate the tiny whitebait that the surface fish are chasing.
I was on the water by 6am and trolling past grotto point before the sun rose. It was a perfect morning, high tide and little wind and warm as toast. Blind trolling is a good way to find fish, especially early on when the birds aren't chasing the schools. I didn't get a touch around Washaway Beach, so I nipped across to Middle Head just as the sun peaked over the horizon next to North Head.
First troll resulted in a belt on the lure and a solid hookup. Boated a nice bonito which was bled and went straight into an icy slurry, the only way to treat these fish if you want to eat them. I trolled back the other way without getting a hit and by that time there were birds working between Dobroyd Reef and Grotto Point.
I nosed in up breeze of the schools and drifted near enough to cast a small white slug of about 1 inch. First cast I came up tight on a small fish, but feisty. Didn't take long to land what I think was a juvenile Mac Tuna, about 30cm long. Caught a few of these downwind, then noticed different boils upwind of the boat with what looked like the backs of fish on top of the water.
The first speculative cast upwind was taken by a leaping fish that fought hard on the light gear. A few more leaps was indicative of a solid salmon, which it turned out to be. Next cast caught me a seagull, and by the time I'd let the poor creature go without harm, the fish had gone deep.
I decided to head for the main body of the harbour. It always blows me away how beautiful it is. I don't venture into the main harbour often, a 12 foot tinny going around middle head with a bit of boat wake on top is only possible with a flattish sea.
Again there were tiny Mac Tuna and one Frigate between Clarke Shark and Georges Head. There were also little penguins chasing the bait schools, always a good sign. Sadly no more bonito, but one is enough when you are cutting them up for sashimi.
I bugged out at around 9:30 for the run back up to Tunks park. Brilliant fun and the harbour at its best, no huge fish but variety and constant action.
I took some GoPro footage which you can find here. Unfortunately it's poor quality and I'm not sure why.
Matt
Stay Informed
When you subscribe to the blog, we will send you an e-mail when there are new updates on the site so you wouldn't miss them.
Comments
1 Woo hoo Matt! When are we going?