Skinny Saltwater Fishing in the Bass Kayak
I've never had much success fishing with soft plastics for bream. Mostly because I've never really devoted any real effort to it. Flathead have been a slightly different matter but even then I've never had outstanding results. At the end of this recent bass season I decided that with all of the water available to me locally, it's something I should get better at. The bass kayak is the perfect tool for exploring skinny saltwater creeks.
The first couple of trips were very uneventful. Very few bites and a lot of casting for a few small flathead and bream over a couple of trips. It can't be that hard right? Plenty of people out there have this down to a fine art. I did a bit of head scratching and reading and took notice of some of the blokes in the bass club, Rico in particular. I don't like using gulp, the stuff stinks and seems to get into everything you use, it's almost worse than bait.As for catch scent, well that's just cheating right? This is lure fishing.
OK, so I bought some S-factor. I didn't really have any religion against catch scent, more a case of being lazy and a tight arse. And of course it makes a difference, why do all the comp blokes use it otherwise? My bite rate escalated straight away and outings started to become more of a pleasure than a chore. I still wasn't getting great results, but certainly an improvement. So what next?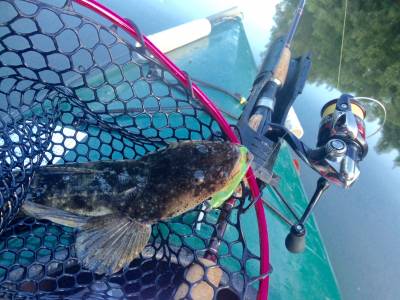 One of the things you read consistently with serious bream fishos is the need for a light trace. I've been fooled into thinking trace isn't that important with bass and estuary perch. Both species aren't too worried about the difference between a 4lb and 6lb trace. After having another good think about things I went down to 4lb fluorocarbon trace. My bite and hookup rate escalated again and I started getting some better quality fish. Obviously over time I'll lose the odd good fish, but the consistent bites and hookups are encouraging and start giving you a bit of confidence.
The last piece of the puzzle in some ways was the first piece of the puzzle. At the start of this I decided to stick with one lure. I copied from the people I knew that had been having success and started using the Zman Slimswimz, mostly in motor oil. I like these lures, they are a nice natural colour and I seem to be able to get them on straight without too much trouble. I matched them to some TT Headhunter jigs in a range of sizes, but I have found that for the smaller jigs like a number 1 hook, it pays to snip a cm off the front. Otherwise you miss a lot of good hookups.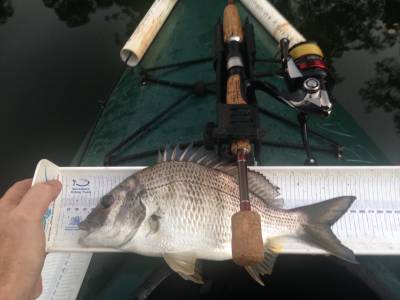 The great thing about this style of fishing is the simplicity of it. I usually take two rods, the second one is only to cover for any breakages or really bad wind knots etc. I have pliers, braid scissors, a roll of 4lb trace, a landing net and a single tackle box of jigs and tails. Its far better putting effort into casting at good cover and keeping the jig in the strike zone as opposed to continually changing tactics. I wouldn't say I've perfected this, not by a long shot. But I've got a lot more confidence than I had at the end of April. On one day recently I landed 18 bream. No huge fish, but out of the realms of what I thought was possible just a short time ago.
Stay Informed
When you subscribe to the blog, we will send you an e-mail when there are new updates on the site so you wouldn't miss them.
Comments
No comments made yet. Be the first to submit a comment