Bass Sydney Basscatch 15/16 November
We have just had a beautiful weekend in Sydney to coincide with the annual Bass Sydney October bass catch. You can find out more about the bass catch here. The short version is that Bass Sydney runs a fishing event twice a year in the Hawkesbury/Nepean where all fish caught are recorded for lengths and place of capture and then the data is fed back to fisheries.
I've been to a number of these and although I've caught some fish, they've never been of any great size. I didn't have much time to fish this year, so I decided to give the lower reaches a try in the tinny. I also decided that if I was going to get a fish it would have to be off the surface. Daniel, Rory and I hit the water at around 3pm and fished until 6pm. We concentrated on casting cicadas up into the shade around the steep banks. Daniel and Rory both had Dreamfish cicadas and I had a soft shell from Tiemco (which I had never even had a strike on!)
Well bugger me if I didn't get my first surface strike after about half an hour of casting. Rory and my cicadas were about a metre from each other when there was a splash and one of them disappeared. I hoped it was his, but it was mine, and as soon as I started to retrieved, the fish was well hooked. A nice fish of 315mm and my first fish on the surface!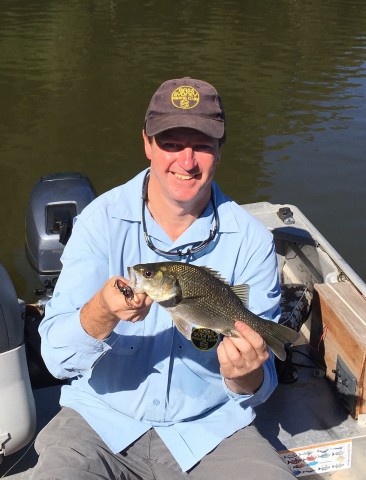 I got another surface hit, half hearted this time, then Daniel had a hit but the fish didn't hook up. Then Dan had a good surface hit and hooked up. He manhandled it out of cover and into clean water and then into the net. Another nice fish at 295mm, his best bass so far and also first off the surface. It was the Mickey Mouse hat that turned the day obviously!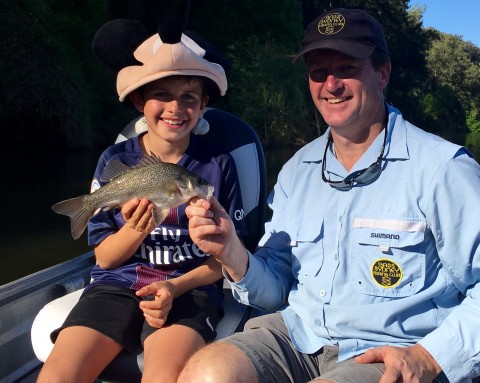 We fished solidly for another hour without a touch. Strange sort of fishing, limited hits, but decent quality. Afterwards we went to the Bass Sydney barbecue up at Yarramundi. The fishing was tough all round with very few large fish. Several accomplished bass fishermen spent all day on the river for 3 or 4 fish. Others did much better, but it was hit and miss and no real pattern to it. The barbecue as always was good fun. Looking forward to the next bass catch in 2017. Thanks as always to my photographer, Rory.
Tight lines
Matt
Stay Informed
When you subscribe to the blog, we will send you an e-mail when there are new updates on the site so you wouldn't miss them.
Comments
No comments made yet. Be the first to submit a comment