108mm or 4.25 inches in diameter
Handles 90 mm between centres
75mm or 3 inch arbour width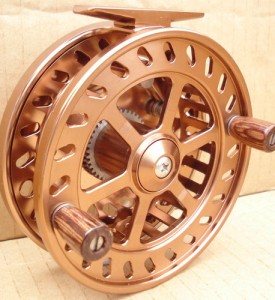 23mm or 1 inch wide in the drum
35mm wide excluding handles
Twin Wooden Handles
Machined aluminium
Weight 250 grams
Price from the UK as cheap as GBP40
Some time ago I did a review on the TF Gear Classic centrepin. This reel is very similar in it's size, the arbour depth and width are similar, the handle placement almost identical, it is slightly smaller at 4.25 compared to 4.3 inches. This reel is slightly heavier at 250 grams. The ratchet mechanism and switch is adequate, unlike the TF Gear Classic. It is a very, very free running reel. Probably the most free running centrepin I own, even more free running than the Okuma Aventa. The spool is relatively heavy, and there is a very slight amount of play in the spool, but they are well balanced and very free running. They pass the breathe test, ie breathe on them and the spool will move, a light blow and the spool will spin.
I haven't tested this for Luderick fishing yet, but I believe it will be a winner, and at the price, brilliant value. Only downside I see is the need for a philips screwdriver to remove the spool. These are a very pretty and functional little reel. Overall not in the league of the Okuma Aventa but not even close in terms of price.
Not sure how these stack up against the Ikonix/Marco Cortesi etc which are almost identical.
I have now used this several times and it is an excellent reel for Luderick generally at the price but with two downsides so far. The two screws that hold the rod mount to the reel worked loose on the first outing. This was easily fixed with some loctite and a screwdriver when I got home. Also the switch for the check is very easily turned on when you don't mean to. This is probably the biggest downside to this reel.
Pros
Inexpensive
Simple
Nice looking
Light
Strong reliable ratchet mechanism
Free Running and well balanced
Cons
Handles a bit close to spool edge
Spool a little wide for luderick fishing (this is just my personal preference)
Very slight play in spindle which may annoy some.
The spool is NOT quick release.
Switch for the ratchet is easily turned on without meaning to.