Absolutely beautiful winter's day today in Yamba. Not a cloud in the sky, but chilly once the sun went down. The river is crawling with blackfish, with bag limits being taken from the rock walls. I fished the T-piece on the very last of the run out, from around 1300 to 1500 or so. Ended up keeping 8 fish, no massive fish, but a solid bag with most fish being around 35 cm. All fish were taken on the local black weed, but some other blokes fishing just before me were catching plenty on cabbage (Ulva) and some on bull weed from the local rocks. I saw fish being taken all along the southern wall, which is great as it gives access to all types of anglers big and small, mobile and less mobile, really great to see at holiday time.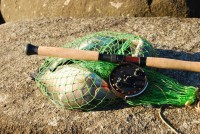 Today I fished with an Okuma Aventa Float rod, and this lovely little trudex centrepin. A great combination, but I must admit to not being thrilled with the Aventa Rod. I think I'm just spoilt with the Pac Comps 3145G which I usually use and is without compare, it seems to have the right balance between being soft in the tip and strong in the butt section. The Aventa is just hard work trying to land fish with, takes an age and you really need a landing net with this rod.
The Trudex however, is lovely to use. A bit small perhaps but quite good for what is essentially an estuary spot.
Matt