The following article was written in 2003 and published in the January edition of Fishing World. I would say everything in it is still applicable. There is now a winter closed season for Bass and EPs in NSW to protect them while spawning.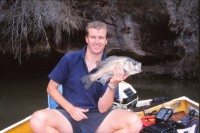 In early December 2002 I made a wonderful discovery born of desperation. I had been fishing a shallow creek in the Hawkesbury River system for whiting. Sitting on the edge of a nice sandbank in the tinny and throwing lightly weighted worm baits up onto the shallow sand flat wasn't having the desired results. I had already moved spots several times, so it was pretty obvious the whiting weren't going to play ball.
I tied on a 1/16th jig head and fumbled a 1.5 inch pumpkinseed Slider tail onto it, mentally congratulating myself at actually getting it on straight. My first cast was a beauty (more luck than design) and quite long because I was still anchored on the edge of the drop off. I felt the jig land on a ledge about a metre under the water and jigged it back towards me until it started to fall again. Again it landed on another ledge. I repeated this until it landed on the bottom, all the while watching the thread of yellow Fireline snake off into the depths. When I was pretty sure it had hit the bottom I started to retrieve slowly back to the boat, the jig had only travelled a couple of feet when it was hit pretty savagely.
I applied a bit of pressure and the fish started to come pretty easily towards the boat. I had it pegged mentally as a small bream, so I was pretty shocked when I saw what looked like a small barra, it saw me, and then started streaking back across the top of the water towards the cliff. I just managed to head it off before it got home and fought it back to the boat. That fish measured 38cm and was my first Estuary Perch.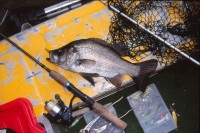 The Estuary Perch is a close relative of the Australian Bass. They look very similar but are quite easy to distinguish. The perch has a concave snout, whereas the snout of a bass is convex. Also the perch has a deeper body and is generally less cylindrical. Like the bass they are attractive fish and powerful fighters, although they are usually not as solid as bass. They are reputed to grow to 10kg, though from experience most fish around Sydney are in the 30-45 cm range. They range from the Tweed river in Northern NSW right around through Victoria to the Murray river mouth, overlapping the Bass for much of its range. They inhabit much the same habitat as bass, but seem to prefer some salinity in the water, unlike bass, which will be found above rock bars in genuine fresh water.
In late autumn through winter they move into the lower reaches of coastal lakes and rivers to spawn. In NSW they are often found around road and rail bridges at this time of year. By December they have moved back into the upper reaches of lakes and streams, settling on fallen trees and seeking the protection of deep pools and overhanging rocks and caves.
I found this information after I had caught my first perch, determined that I was going to catch more of these great fish. So I put what I had learned from books and mags and the experience of the first fish and set out to catch a few more. I also got a few mates involved who were keen to catch their first perch. It wasn't too long before we had boated around 30 fish over half a dozen trips, the average fish around 35cm and the biggest a solid 43cm.
We targeted the same kinds of structure as that where I fluked the first fish, looking for sandstone cliffs bordering water 3-5 metres deep in the brackish sections of creeks. Instead of anchoring we drifted along sandstone cliffs within casting distance and let our jigs sink to the bottom, slowly retrieving in a start-stop motion. What we found was that there was generally a short stretch along each length of cliff that produced the better quality fish. The fish tended only to strike after the jig had settled on a ledge or on the bottom, with quite a few fish following lures back to the boat. From sighting fish while drifting, and the pattern of strikes, we decided that the perch sit under the sandstone ledges and follow the jig until it settles, striking after the lure first moves.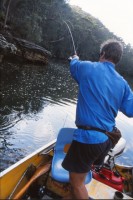 We also got the occasional fish off fallen timber, although they tended to be the smaller fish, the larger fish being taken from the best sandstone overhangs. The fallen timber scenario requires a much stealthier approach, and without an electric I think our success was limited.
TACKLE
Standard bream spinning gear is perfect for targeting perch. A 6'6" or 7' graphite rod matched to a small, good quality eggbeater, spooled with 6lb Fireline is ideal. When bream spinning I would often use 4lb or 6lb fluorocarbon leader, but have found that 8lb seems to be perfect for the perch. They are usually caught much deeper and tend to be less flighty than bream even in quite clear water.
Perch will take a range of soft plastic lures, prawn and shrimp imitations and hard-bodied lures. Lures that can get down to depth are ideal, and this is where the soft plastic grubs really do the trick. Jigs around the 1/16 ounce range are ideal for most areas but occasionally a 1/8 ounce jig is necessary in faster running water. Tails from 1-3 inches in natural colours are a good placed to start, the 1.5 inch Slider in pumpkinseed being a proven fish taker.
Polaroids have proven to be a useful accessory, around a quarter of captures being made as fish followed the lure out of cover and within sight. A quick release of the bail arm, letting the jig fall to the bottom followed by a speculative strike would usually see these fish well hooked.
LOCATIONS
From experience and from talking to other fishos, it is apparent that estuary perch are available in nearly all of the Sydney waterways. Even small coastal lagoons such as Manly and Narrabeen have populations. The overall pattern is for the fish to be in the brackish upper sections during the summer before moving downstream in autumn, when they will be found schooling around bridges and creek entrances. They are nearly always found around some structure, and this is the key to finding fish. The sandstone banks and drop-offs of the Hacking, Woronora and Georges rivers in the south, and Cowan Creek, Berowra Creek, Middle Harbour and Lane Cove River in the north, all share similarities and produce fish.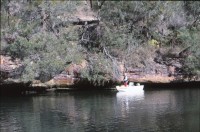 CONCLUSION
I have no doubt that there has been a steep rise in the number of people targeting and successfully catching estuary perch. In my opinion this is a direct result of the impact of soft plastic lures and jigs and the light tackle being used to deliver them. Perch will take hard-bodied lures if presented well, but even a novice can catch perch on soft plastics, provided they are fishing in the right sort of terrain. I also think that perch are much easier to catch than bream on lures. They seem much more ready to hammer a lure, and much easier to hook when they do. Estuary perch have long gone largely unnoticed in Sydney's waterways, and seem to be available in good numbers but in limited habitat. It will be up to those of us that are lucky enough to encounter them to ensure that this remains to be the case.