Happy Father's day to all, and what a beautiful spring day it was. Well only just spring, the first day in fact, and apart from a haze from back burning it was about as good as it gets.
The tides weren't the best, but I had a bit of luderick weed left over from last week and half a bucket of berley, so my wife and I loaded the boys into the car and headed for the mid section of the Parra river. I had a bit of a go for blackfish, but to be honest it didn't look fishy, more of a rising tide proposition I think. The boys rode skateboards and my wife read a book in the sun.
We decided to give it a miss and headed for Hunter's Hill, thought Valentia St wharf may have a few fish, also thought we may head for the Woolwich Pier hotel for a bite of lunch afterwards. It was lovely down there, pretty spot with the city in the background. There were fish there as well, my son and I hooked and landed one each, not bad sized and a bit of fun. We only fished for half an hour, but it was good fun and always great to see one of the kids land a luderick on light gear.
The fish were released to fight another day (dad was being both lazy and not keen on fish from west of the bridge)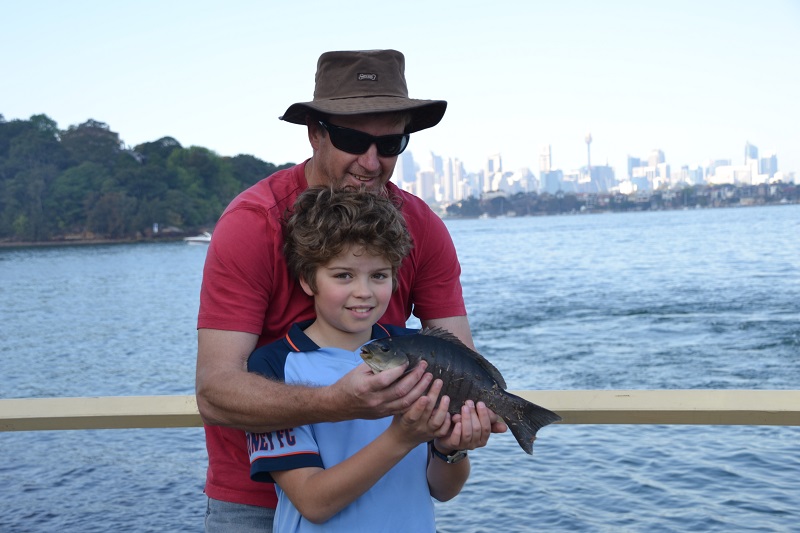 We tried the pub for lunch but it was booked out (rollseyes) probably just as well. We decided to walk into a restaurant just down the street, Peter's on Woolwich, they had a breakfast menu and lunch menu and it was both reasonably priced and generally excellent.
A great day all round, all the best.
Matt