If you are going to attempt to fish for luderick (or blackfish if you prefer), then you are going to need to use an appropriate rod. This article is an attempt to list blackfish rods and rough prices as of January 2012 in one place. But first, what makes a rod appropriate for blackfish.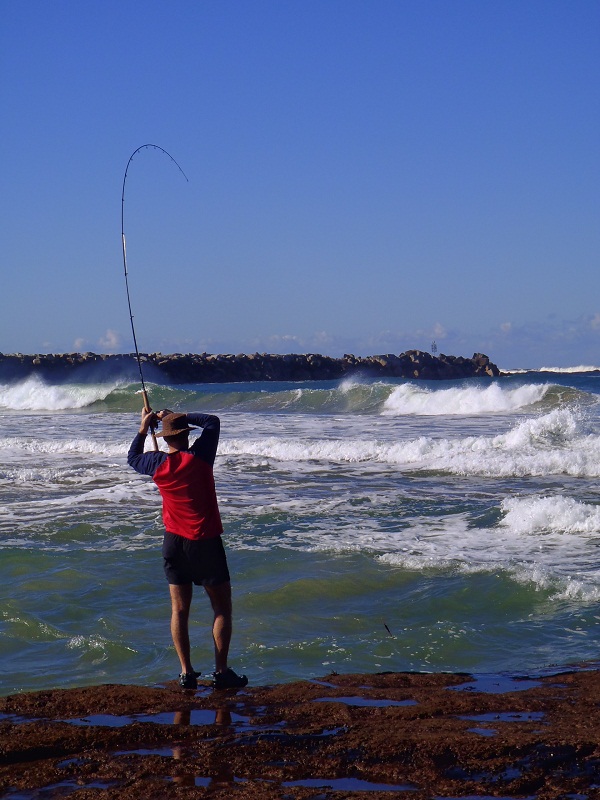 Length is important, and usually depends on the situation and location. Generally estuary locations and boat fishing require shorter rods of 9-10 feet or 2.7-3 metres. Ocean rock fishing requires longer rods of 10-12 feet or 3-3.6 metres. Action is also important, generally blackfish rods have a very slow to slow taper. This simply means that they will bend from tip to butt.
Length is important as it helps with casting and line maintenance, the slow taper helps with setting the hook and controlling a fish at close quarters. With a good blackfish rod you can hook a fish almost at your feet and let it fight it out in the same spot with the rod absorbing all of the lunges and dives.
The other aspect that is important is the position of the rod mount. The rods I recommend here will focus on rods suitable for sidecast or centrepin.
Lets start at the inexpensive end. And what better way to start than the Jarvis Walker Aurora series. These rods are made to a price, but will still catch a lot of fish before they pack it in. The two rods to look at here are the Estuary and the Ocean Blackfish. These rods won't be built on the best blanks or with the best compnents, but with the Jarvis Walker name should be sturdy enough to withstand a fair beating. Certainly at $40-$60 they are a reasonable place to start if you don't want to pay too much to get started.
There are several others that you MAY see on the racks at the cheaper end of the scale, most of which have been discontinued. These include the Shakespeare Agility in a 3.0m and 3.6m. Nice rods to use and a nice feel, full graphite IM7. Very dodgey components though, given they were more in the $70-$100 mark. Guides had a stainless insert in a very flimsy outer ring, so very short life unless you are very careful with your rods. Better rods at the cheaper end were the Angler Advantage rods based on Excel Composite fibreglass blanks and cheap components. Again these rods are discontinued.
There are some nice rods available in the $100 - $200 bracket, and this is where you should start if you are looking for a rod that you will have for life.
Wilson make a fine range of rods based on NZ made Kilwell fibreglass blanks. There are rods in at 9,10, 10'6" and 12' in one and 2 piece. As an example the 10'6" 2 piece will set you back $130. These are excellent rods made with good components.
Next comes Gary Howards excellent rods and again these are based on Kilwell/Snyder or Pacific Composite blanks and he makes an estuary blackfish and an ocean blackfish model in 10' and 12' and should price between $140-$180.
Snyder Glas rods are available again, and although not a specific blackfish version, the mag bream in an 11'4" 2 piece is a lovely rod. My first blackfish rod was a one piece version of this and was a joy to use. These will set you back around $170.
In my opinion the pinnacle of blackfish rods, are rods using good components and based on the Kilwell Supergraph 1742/2c or the Excel Composites 3145G. These are composite blanks using fibreglass and carbon to give a lighter stronger rod without the fragility of an all carbon rod. Wilson market a nice rod based on the Kilwell blank at about $200.
So that leaves the GP3145G, Why do I have such a high opinion of this rod ? Firstly it's tough. I have been using mine around the rocks for close to 10 years and it's still going strong. Secondly it's light. For a 12 footer it's marvelously light which is important when holding the rod for long stretches at a time. Lastly, it's a beautiful rod with which to cast a pin, trot a float,and hook and land a fish. I am yet to find a better blank with which to chase blackfish.
The down side is that an off the shelf rod manufactured on this blank isn't available. Which leads to the last point, rod building is fun and very simple and a nice way to end up with the perfect blackfish rod. When I find some time I will add a recipe for the GP3145G and tack it on to the end of this article.
There are also some good rods available based on GLoomis and St Croix blanks, if you are familiar with these and would like me to add to this article or indeed any other notable mentions, please reply through the comments section.
Addition as of July 2012.
I have been using the Okuma Aventa Float Rod for some time now with some success. I will do a full review in the appropriate section on this site. These rods come in two sizes 13'6" and 15'6", a 3 piece and a 4 piece. They are IM7 graphite with cork grips and either a fixed reel seat or slip rings depending on which one you buy. I have the 13 footer and it is a lovely rod to fish with, it is light and great to hook and play a fish with. It is particularly good in the estuary where you would nearly always have a landing net handy. Unfortunately these rods are fragile, being pure graphite and very fine in the tip. I can pretty much guarantee that they wouldn't last long on the rocks and they simply don't have the grunt for extracting big ocean run blackfish quickly. They are relatively cheap and you should pick up one for around $120 delivered depending on exchange rate etc.
Addition as of Oct 2016 (This information came courtesy of Mike Baxter)
You mentioned Loomis rods so I thought I'd share some personal experiences. I use a Loomis STR1141S when boat fishing for blackfish. It's 9' 6" and sold in the U.S. as an "ultra light steelhead rod". It weighs nothing but is strong enough to steer bigger fish away from the oyster leases and pylons. For landbased estuary work I use a Loomis STFR1321 with a couple of inches cut from the butt. It was originally 11' and sold in the U.S. as a salmon float rod. I love this rod...the only negative being the reel seat is a little too small for Avon reels. I purchased both rods on-line from American Legacy Fishing Company who were excellent. For rock work I'm still using a Sportex 662 (with 6 inches removed from the butt) that I got built for me 35-40 years ago. After reading your articles I might check out the GP3145G as a replacement. Hoping this email finds you well.
Recipe for GP3145G set-up for centrepin
Based on a 2 piece blank
Use Fuji Hardloy BNLG or Alconite BMNAG depending on expense
Tip 8mm/2.8
8mm at 150
8mm at 190
8mm at 240
8mm at 285
10mm at 335
12mm at 410 (Edited 1/9/2012 was 10mm, I remeasured)
16mm at 460
20mm at 490
Fuji FS-7 open seat bound at 710 from last guide (measured to end of bind on reel seat)
Leaves about 380 from centre of reel to butt.