When it comes to float fishing for Luderick, the centrepin reel is the best tool for the job. Debatable perhaps, but in my opinion, and for the purposes of this article lets assume that this is correct.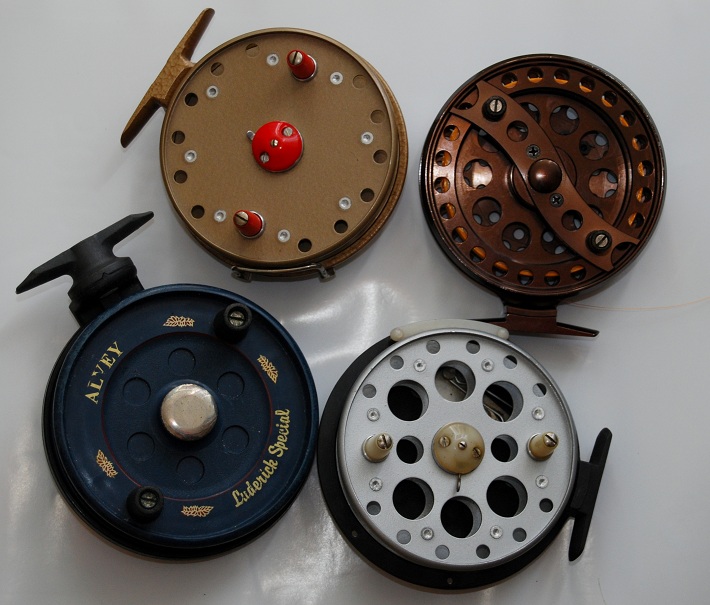 Photo 1 - TopLeft Grice & Young Avon Royal Supreme, TopRight Okuma Aventa Pro, BottomLeft Alvey 475B, BottomRight Grice & Young Golden Eagle
I prefer to use a centrepin for a number of reasons. Centrepins give you the ability to let a float drift unencumbered, they let you maintain your line easily, they don't introduce line twist, they allow direct contact when playing a fish and they are easy to maintain. They do have one disadvantage in that they are harder to cast, and you will never get quite as much distance as you could get with a sidecast, for example.
So, if we agree that a centrepin is the correct tool for the job, which ones are appropriate for luderick fishing ? Its probably worth quickly talking about the difference between "true" centrepins and the rest. In a "true" centrepin, the spool is supported on top of the spindle and by the spindle. In other centrepins the spool rests on the back-plate. An example of a "true" centrepin is a Grice & Young Avon Royal Supreme, which has a sprung end cap with an adjusting screw. In this case none of the weight of the spool is supported by the back plate. An example of" other" centrepin is the Okuma Aventa Pro, where the spool sits on the base of the spindle and the back plate and is kept from coming off by a knurled retaining screw.Both types are perfectly valid for Australian conditions.
If I had to recommend one reel for a luderick beginner, it would be the Alvey 475B. This is able to be used in sidecast mode, my advice though, don't use the sidecast mode. If you decide that luderick fishing isn't for you, then you have a perfectly usable sidecast for rockfishing or beach fishing for the smaller species. These reels are excellent,fairly inexpensive (AUD 85) very sturdy, low inertia in the spool and easy to maintain. There is no ratchet, but there is a line brake to stop the spool rotating when you don't want it to. These reels are so good that Shakespeare sells them in the UK under the model name Lincoln as a cheap competitor to all of the locally made centrepins.
There are a number of other Alvey centrepins to choose from, some have ball bearings, some only have bushes and some are centrepin only with no sidecast ability. There is also the option of stainless steel back-plates. Each option costs a little more. If you are really stretched for cash have a look at the Alvey economy models (like the 455B) , these are cheaper again (AUD 50), bushes only, deeper in the spool and smaller diameter, don't spin quite as nicely, but still very usable particularly for still water fishing.
If you have had an Alvey for a while and you want something a little more refined, nicer to use, nicer to look at and generally more upmarket, then there are a couple of good options depending on what you want to spend. The Okuma Aventa Pro is an excellent reel, available from overseas suppliers from between AUD150 and AUD200 depending on delivery costs and exchange rates. These are not a "true" pin, they rely on ball bearings and run on the back-plate, but they are very nice to use, are light as a feather and remarkably sturdy. I have used one for a number of years fishing from the ocean rocks and apart from some scratches and wear in the anodising, it is still in excellent condition. These days this is my "go to" reel.
If you want a "true" centrepin, but aren't prepared to spend huge amounts of money, then I would recommend looking at second hand British made centrepins on EBAY. Grice & Young made a series of reels between 1960-1980 that were very usable in Australian conditions. The best of these were the Avon Royal, the Avon Royal Supreme and the Golden Eagle. G&Y reels were notorious for having interchangeable parts and names and I will do a separate article on G&Y reels and what to look for on EBAY when buying them. You should pay between GBP30 and GBP70 for a good G&Y depending on model and condition.
Other reels to look for second hand are the JW Youngs Trudex. These are very fine reels, available for 30-50 GBP. Note that I haven't personally used one of these, but know of at least one Sydney blackfisherman that swears by them. There are some truly beautiful works of art available, particularly from the UK,but you will be paying AUD300 + for some of these. I'm not sure that most of them are suitable for Australian saltwater conditions. Unfortunately my JW Youngs Purist 2040, really didn't cope with the conditions.
Another good EBAY candidate is the narrow spool WR Speedia, haven't used one of these but the English trotting crowd swear by them.
There are also a range of cheap Chinese made reels sold on EBAY including the Marco Cortesi, TF Gear Classic and a number of other reels of various quality that range from the GBP40-60 range. I have only trialled the TF Gear Classic and although OK, I wouldn't recommend it except on price.
I realised that in writing this I had neglected to give some other local reels an honourable mention. The locally manufactured Steelite is still very popular and occasionally available in mint condition on EBAY, you can also get good second hand ones. There are also some Avon Royal/Gypsy D'or copies made by a bloke in Port Macquarie that turn up from time to time. There is also the Alvey 475CP and an identical reel marketed by South Pacific Reels.

So, in conclusion, here are a few places to start if you want to try the old fashioned and in my opinion the best reels for luderick fishing. Keep an eye out for my other articles which will be added over time. A buyers guide for second hand G&Y reels and How to cast a centrepin.
Nov 2012 update : I still haven't changed my mind, the centrepin is still the best tool for the job when it comes to reels. The Okuma Aventa Pro is still, in my opinion, the best reel currently available on the market for blackfish. The Alvey 475B is still the best all round reel for someone buying their first blackfish reel. The Trudex is an excellent small reel suitable for estuary work, but the lineguard and adjustable brake are wasted. The Avon Royal (3.5inch) would be perfect if not for the non-removeable lineguard. The Speedia is excellent, a beautiful reel which only suffers because of the arbour depth, which is too deep. In the larger size vintage reels, the Avon Royal 3 (or variants thereof) is king, with the plastic backed models being the best for durability and weight, the Avon Royal Supreme being the worst due to being too heavy. Of the all metal Grice and Young, the Coq D'or is the pick.
Rankings
Currently available 1.Okuma Aventa Pro 2.Alvey 475B/Lincoln 3. Shakespeare Black Eagle (becoming rare)
Vintage Small 1. WR Speedia Narrow 2. JW Young Trudex 3. Avon Royal (with the crown inscription and 3.5inch)
Vintage Large 1. Plastic Avon Royal 3 (or MatchMaker) 2. Plastic G&Y Golden Eagle 3. G&Y Coq D'or 4. Avon Royal 3/Gypsy D'or in metal.
Note that these rankings are based on the reels I have actually used. I suspect that any of the modern Okumas would be excellent. I haven't used the Alvey 475CP/South Pacific so can't comment yet.